Isopane Silverstar EN2Plus
Isopane Silverstar EN2plus combines highest colour neutrality with outstanding thermal insulation at the same time. In the past, conventional thermal insulation layers frequently brought about a change in colour on account of their intrinsic colour. A new coating technology leaves Isopane Silverstar EN2plus clear. Furthermore, the greatly reduced mirror effect generates the maximum possible harmony with other construction materials being used. Isopane Silverstar EN2plus is ideal for the planning and construction of glazing to meet different requirements (e.g. toughened safety glass, laminated safety glass, alarm glass) in any site and with an attractive, individual appearance, where technically feasible.
In contrast to conventional aluminium spacers, stainless steel, Thermix or Super Spacer solutions considerably minimise the heat bridge at the edge of the pain. The temperatures are much higher ("warm edge") so that valuable heat remains in the room. At the same time, there is less risk of condensation and mould growth.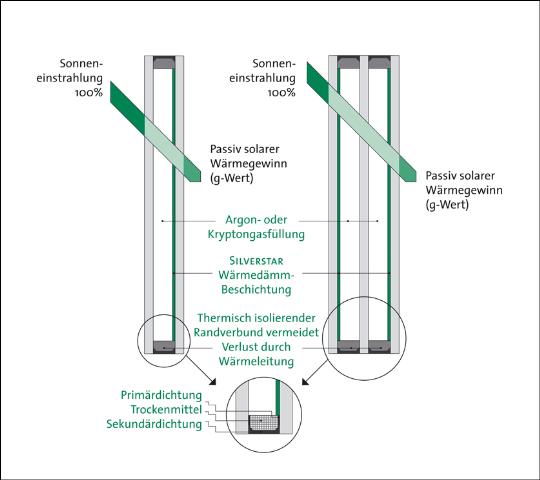 Exemplary colour neutrality
More scope for design
Attractive appearance
Natural colour rendition
High translucency
Greatly reduced mirror effect
Low Ug value
Less energy consumption
Fewer CO2 and nitrogen emissions
More cosiness
Optimised g-value
Solar radiation used
to generate additional heat
Used for multi-function requirements
Can be combined with augmented soundproofing
and safety functions