Expertise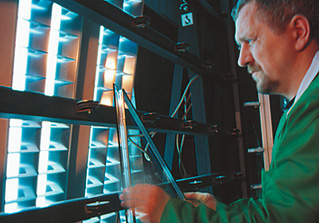 More than 50 years of NOWAK GLAS - that is more than 50 years of intensive experience and detailed glass know-how! We attach great importance to maintaining close relationships based on partnership with our customers and suppliers. This is the foundation on which we offer strong service to warrant smooth procedures, fulfil high quality requirements and ensure pleasant cooperation. Meticulous final control together with effective product and quality management warrant the top rating of our products.
Our company also offers a broad range of products and services. This encompasses
insulation glass, with options for thermal insulation, soundproofing or solar control and also with combinations of all these attributes. ISOPANE insulation glass is available in sizes of up to 6.00 x 3.21 m and with total weights of up to 1,000 kg
Safety glass, either as toughened safety glass (ESG & ESG-H), laminated safety glass (VSG) from float glass, ESG, ESG-H or heat-strengthened glass (TVG)
Basic glass, e.g. float glass, cast glass and decoration glass
Our product range is based on an extensive choice of glass that includes most standard European types.
Particularly when it comes to special products, over the decades we have constantly extended and perfected our expertise and our range of services. Accordingly, today we can offer our customers sheer endless possibilities for processed glass products, such as:
glass for inside and outside use
fittings, for example for structural glass construction, interior design or sanitary facilities
individually curved or domed panes
insulation glass in combination with traditional glass, e.g. lead glazing
all standard transom colours and systems
high-security glass for building security and personal protection
all conceivable forms and designs in a wide range of different finishing processes
ceramic printing in digital and screen printing methods in many different colours, from monochrome to multicolour and even photo-realistic designs
top quality glass painting with full freedom of design on the glass surface
sandblasting, e.g. matt stripes, design elements, lettering or logo designs
facets and fluted bevels according to design templates or individual specifications
special coatings, e.g. Bioclean, DuraClear and numerous solar control coatings
We welcome your interest in our products; please be assured right now that when you place an order with us, it will be produced in a top quality process based on and in compliance with the following standardised national and international quality criteria: